Featured Item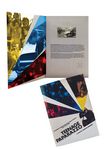 Video In Print Media Player For Custom P...
The perfect fusion of video, print, and sound. Incorporate high quality video content into any print collateral. Multiple screen sizes available. Up to 15 minutes of video content. Rechargeable batter...

Elite Image's dedicated professionals have...
over 25 years experience providing quality customer service to businesses, hospitals, trade show associations, nonprofits, government agencies, and the travel, tourism and hospitality industries.
We offer services beyond the imprinting of your logo on a product. Elite Image's knowledgeable staff uses carefully selected promotional products to create an effective promotional campaign.
Whether you need a logo to brand your business, a product to recognize your employees or a coordinated selection of products for a sustained campaign, Elite Image is here to help.
For added value, check Our Specials, a selection that changes regularly.
Search our website or Contact Us for assistance.